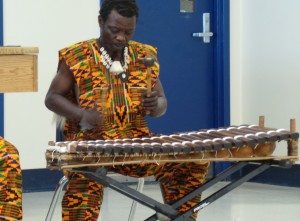 N'Camara Abou Sylla was born into a "Djeli" family in 1958, in Guinea, West Africa. "Djeli" families are a specific group in Africa, whose heritage is that of oral history-tellers, musicians, singers, and dancers. The grandfathers in Abou's dwellings were artisans of the instruments known as the balani, the short-keyed wooden xylophones, (balafon, in French). These instruments are valued for their important role in traditional music of the ancient Manding Empire of West Africa.
Abou's proficiency and creativity on the balafon was first noted by his father when About was a young boy.  His fresh, young talent surprised the elders and earned him a place of distinction at ceremonies and celebrations.  In his teenage years, Abou spent his free time hanging around the musicians in Conakry, the capital city of Guinea.  After hearing the music coming from the rehearsal halls of the national ballets of Guinea, known as Les Ballets Africains, Abou  became intent on joining the national company  At the age of 20, Abou was invited to join the company.  It was here, under the direction of Italo Zambo, Director of the ballets, that Abou identifies as the time period in which he became a master of the balafon.  He toured with Les Ballets Africains around the globe for more than a decade, still offering his gratitude in the ballet for bringing him and over 50 talented African musicians to the world stages.  In the late 1980's, Abou left Lees Ballets and joined Les Mervilles de Guinee, embarking on another tour to Belgium for the 100th Anniversary of Sabina Airlines and to the United States.
Abou moved to New York City In 1996, where he co-found and was Musical Director of Feraba, a performance company combining the musical rhythms of West Africa and tap dancing choreography. With co-director, Irene Koloseus, a celebrated tap dancer and choreographer, Abou spent the next several years making Feraba into a unique and exciting show for audiences in the United States and abroad. Abou start performing with the Akwaaba Ensemble as a guest artist since 2012.