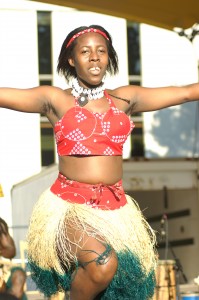 Rebecca Morkor Korley was born and raised in Accra-Ghana West Africa, she specializes in African and contemporary dance.  Rebecca started her dancing career in 1992 with the Kakaloi group at the age of ten.  At the age 15 she then joined the Dance Factory Company at the National Theater of Ghana in 1997, one of the most sought-after performance ensembles in Ghana. Rebecca has performed for Queen Elizabeth of England at the Independence Square of Ghana and performed for Stevie Wonder at the Hewark Stadium of Ghana.
In addition to performing for Queen of England and Stevie Wonder, Rebecca has had the opportunity to tour and performed to diverse audiences in Togo, Benin, Nigeria, Morocco, Germany and Austria.
In 2008 Rebecca joined the Kusun Ensemble at the age of 26 to tour the United States and Mexico. Rebecca is a West African dance teacher who loves to share her dancing skills with people of all ages.  Rebecca start working with the Akwaaba Ensemble in 2010 and she now resides in Schenectady, NY.